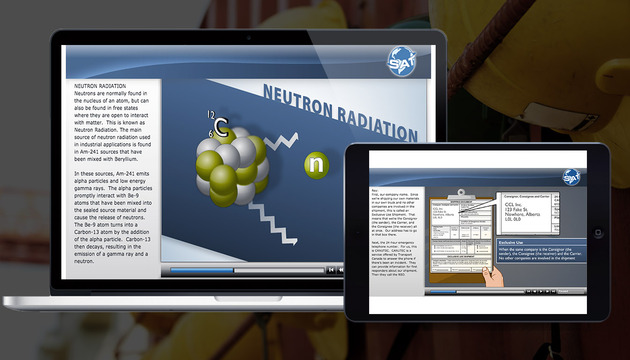 Note: Our course modules work best on the latest version of Google Chrome. If your course is not loading, update your browser and/or check your internet connectivity as a first step.
TDG Class 7 for Portable Gauge Users and Wireline Online Training
# Seats
# Seats
Discount
Price
25 - 99
$7.00 off
$

122.95

100 +
$19.00 off
$

110.95
Danatec has recently updated the TDG training for Class 7 Dangerous Goods courses for regulatory content and mobile-compatibility. This on-line training program teaches the Class 7 specific requirements for Type A Packaging, necessary for any industry that transports Class 7 Dangerous Goods by road. It meets the requirements of Transport Canada and the Canadian Nuclear Safety Commission.
TDG Class 7- Type A Packaging is for lesser activity sealed sources, such as Well Logging sources, portable gauges and fixed gauges.
Each chapter quiz interactively engages the student in the learning process. A thorough and detailed final exam ensures the student is fully qualified to safely transport Type A packages. The student can print a wallet certificate immediately following the completion of the course, provided they receive a 80% passing grade. Each student has 30 days to complete the course and 3 years course access for review purposes.
Features
Begin your training in minutes
Start and stop training at your convenience
Printable TDG certificate
24/7 365 access to online training
An overview of the TDG requirements
Responsibilities of shippers, handlers and drivers
Classes of dangerous goods
Shipping documents
Safety marks
Containers
Special situations
Emergency action