{{ notice }}
{{ warning }}

Frequently Asked Questions
Have questions? We've got answers. Browse our list of most frequent inquiries to find the information you need.
Question Topics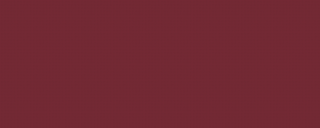 Is your course not loading?
One of the most common problems people have with viewing the course modules is an older browser or internet connectivity. Our courses work best with the latest version of Google Chrome.
Download Google Chrome
Training Managers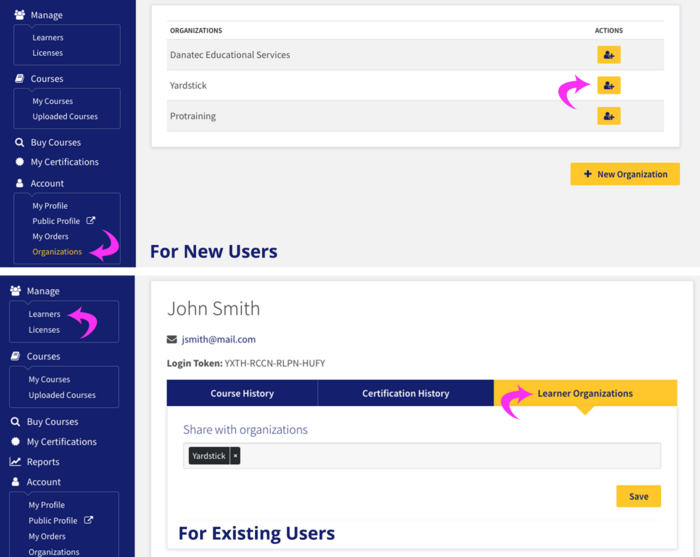 How do I add a user to my organization?
There are two methods for adding a learner to your organization:
METHOD 1: FOR NEW USERS
If the user doesn't already have an account, you can click on "Organizations" in your dashboard and click the gold "Add User" button. They will receive an email invitation to join your organization. They will need to sign up for their own account, either with their own email or phone number, but will still be a part of your organization once they join.
METHOD 2: For EXISTING USERS
If the user has already signed up with the site, you can still add them to your organization.
Go to your Learner List by clicking "Learners". Find the user, then bring up their learner report by clicking on their name. If they're not on the list, you can add them by clicking the yellow "+Add" button at the bottom of the list.
Go to the "Learner Organization" tab, then click the bar to bring up a list of your organizations.
Select the organizations, then click "Save."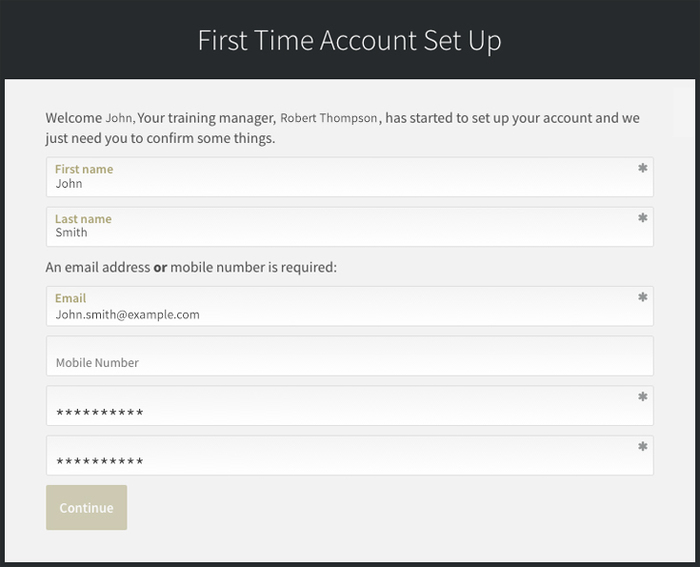 What are login tokens?
This unique token allows your learners to access the accounts that you set up for them and ensures your accounts are linked. Just create a learner, assign their training, and send them their login token. The first time your learners log in with the token, they'll confirm their details and be ready to start the training you've provided.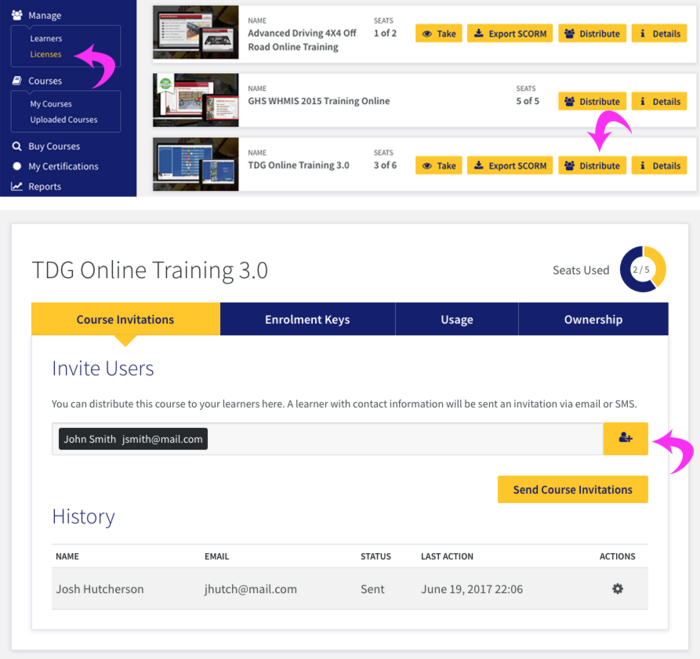 How do I distribute my courses to a user?
Click on "Licenses", then "Manage" on the course you'd like to send out invites for, either through email or via enrolment keys.
Email invites get sent directly to the learner; they can accept/decline the invitation in their "My Courses" page.
Enrolment keys must be shared to your learners by you, however you wish to do so. Once the learner receives the enrolment key, they can enter it at the bottom of their "My Courses" page.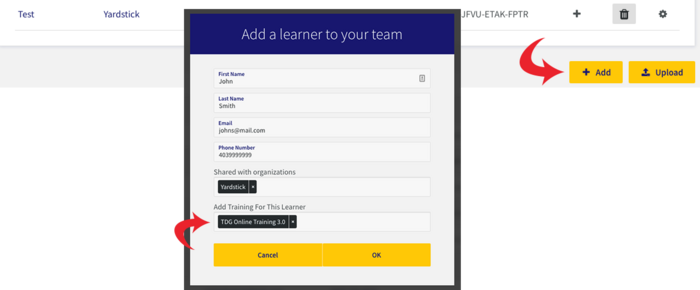 What if the user isn't on my learner list, or doesn't have an account?
If you can't find the user on your learner list, you can invite them to take the course at the same time you're adding them.
At the bottom of your learner list, click "+Add." Enter the learner's information, as well as any training you'd like to distribute to them. They will receive a link to your site.
Once they have confirmed their information and created an account, they will be able to accept the invitation on their "My Courses" page.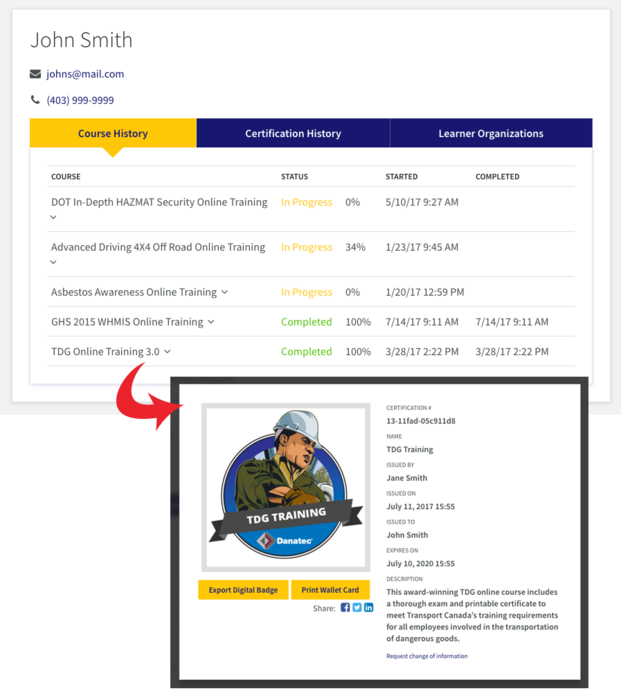 Will my organization's learner certifications and progress be saved?
Yes! We've made sure that your records and licenses are available and up-to-date on the new site, ready for you to check. You can access digital badges, wallet cards and certificates right from the site, or on your phone. If you have any trouble, just ask our support team via email or our live chat.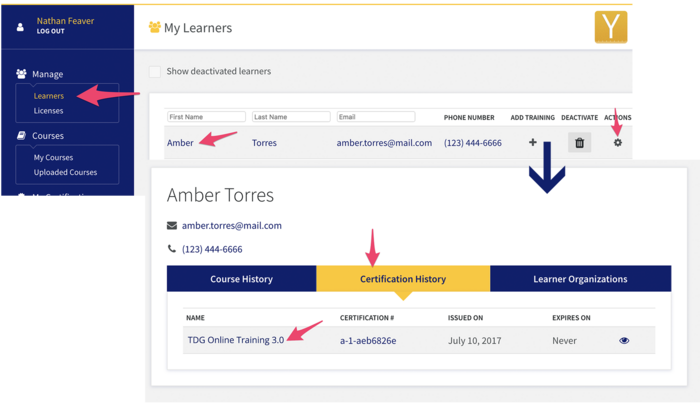 How do I print wallet cards for my learners?
Click on "Learners," then bring up the learner report that you want by clicking on the learner's name (or on the gear icon beside their name). In the learner report, click "Certification History," then choose the certificate you want to print out. Finally, in the pop-up, click the "Print Wallet Card" button to open a PDF of the card. Print the document like you would any other (File > Print or CTRL/CMD + P).
Online Training
Do I need TDG Training?
Everyone who handles, prepares for transport or carries dangerous goods must be trained and certified. Your employer determines what type and level of training you need.
How long is my TDG Training valid?
The training certificate is issued by your employer, and is good for 3 years. It is only valid if it is signed by you and your employer.
Do I keep my TDG certificate or does my employer?
You must keep your certificate with you or near you. You may have to produce it at the request of a dangerous goods inspector.
I am self-employed, who signs my TDG certificate?
If you are self-employed, you can issue your own certificate. This means you have the responsibilities of both an employer and an employee.
If I change employers/jobs, do I have to re-train in TDG?
According to the TDG regulations, a TDG certificate is not transferable between employers. This means that if a trainee changes employers, they will need to be re-certified by the new employer and possess a training certificate with the new employer's address. The same applies if you change job descriptions. For example if you were trained as a "Handler" of dangerous goods but now drive a vehicle, you will need to be re-trained.
Where do I find information about TDG training in the Regulations?
Part 6 of the TDG Regulations deals with training requirements.
Who needs WHMIS training?
WHMIS training is required for any employee that requires this information to protect themselves from the hazards of the controlled products they handle in their workplace.
How long is my WHMIS Training valid?
Training doesn't have to be renewed at any particular time, but it does have to be up-to-date at all times. It is recommended that some form of WHMIS review be conducted and documented at least once per year.
If I change employers/jobs, do I have to re-train in WHMIS?
It is the employer's responsibility to ensure that all employees are properly trained. This may include re-certification when you start at a new position or organization.
Learner Accounts
My username/password doesn't work or I can't remember it.
Be sure you are typing in the username/password exactly as you did when registering your account. Your username and password is case sensitive, so check to make sure the Caps Lock button isn't on. Make sure you've confirmed your account through the link that was sent to you when you signed up.
If you've lost the link, you can have your confirmed re-sent here.
If you've forgotten your password, you can recover it here.
How do I change my password or personal information?
In the admin sidebar, click on "My Profile" in the Account section.
To change your password, click the "Change My Password" button at the bottom of the page.
You can also edit your personal information and preferences here. Please note that you are required to enter your current password whenever you make changes.

I think I am missing a course. It is not listed under "My Courses."
Your training manager, or whoever has ordered your online training, will have a record of all courses you are supposed to be registered for. Please contact them to confirm your required courses.
They will have to invite you to take training via email or enrolment key. The email invite will be sent to the email address attached to your personal account.
If you don't already have an account, it will be sent to the email address you have provided to your training manager.
Please ensure you have access to this email address, and check your spam folder if you don't see it in your inbox
My training manager told me to add another course to my account. How do I do that?
Simply log in to your account and click on "My Courses." There is a box to enter the provided enrolment key, shown at the bottom of your course list. If you do not have an enrolment key, contact your training manager.
If you've been emailed an invitation for a course instead of given an enrolment key, simply click "Accept" on the pending course invitation.
General Information
Do I have to order a copy of the Self-Teach for each person, or can I copy them?
Danatec®'s publications are protected by copyright and may not be reproduced by any means without written permission. All product prices are per unit.
How do I return a product?
If you wish to return materials, we will require the original invoice and the original packaging. Products may be returned up to 30 days after receipt date.
Please contact our head office at 1-800-465-3366 or 403-232-6950 to obtain a Return Code. No packages will be accepted without one.
Where is your office?
Our address is:
201, 11450 29th Street SE,
Calgary, AB, T2Z 3V5
We are located in the community of Douglasglen in Southeast Calgary, just down from the Deerfoot Inn and Casino.
What shipping methods are available?
Danatec® uses Expedited Parcel Post unless otherwise specified. Other options include:
Purolator Courier
DHL (Loomis)
Fedex
Greyhound Courier Express
Chariot Courier (within Calgary)
Customer pick-up
Customers may also choose to arrange for their own courier to pick up their orders.
Exams and Certificates
How do I know if I passed my exam?
Upon completion of the exam, you will be given a grade. If you passed, you'll be able to see your digital badge. If you didn't pass, you'll be prompted to take the exam again. Almost all of our exams have a minimum pass grade of 80%. The TDG Class 7A and 7B courses require 100% on the final exam.


What happens if I fail one of the Chapter Quizzes, or the Final Exam?
You can continue with the course, even if you fail a Chapter Quiz. If you wish to re-take that quiz, open the Menu and click on that Quiz again. If you fail the Final Exam you will be automatically required to take it again. Minimum required grade is 80%, or above, depending on the course.


I don't have time to finish my course today, can I just leave?
Yes, your progress is marked by green checkmarks on your Course Outline. To leave the course, simply close the browser window or click "Log Out." When you return to the course you will see green checkmarks, and can begin with the last lesson checked off.
Can't I just do the final exam to get my certificate?
The course is designed to be fully completed before a certificate can be printed, to ensure that the student has adequately reviewed the material. There is no option to only complete a final exam.


How do I print/export my certificate?
To print certificates, go to "My Certifications" in the sidebar. Click "View" on the certification you wish to print, then either "Export Digital Badge" or "Print Wallet Certificate."


My name or the company name is misspelled on my certificate. How can I change it?
You will need to contact us to make those types of changes. Under "My Certifications," click "View" for the certification requiring the change. Under the certification details, there is a link to "Request change of information."


I have finished my course, but my status is showing as "Partially Completed" and I can't print my certificate.
If there is no certificate listed for the course under "My Certifications," your course may not have been fully completed, or you haven't passed the exam with the minimum required exam grade. Check your Course Outline for any missing green checkmarks and re-take the exam if necessary.

If you have completed all the modules and passed the exam with the minimum required grade, but the modules still aren't registering as being completed, please contact us.
Browser/Computer Issues
What does my computer need to take your online courses?
To take our courses, we recommend using the latest version of your favourite browser (Internet Explorer, Mozilla Firefox or Google Chrome) on your PC or Mac computer. However, our courses perform best with Google Chrome. - Download Google Chrome HERE
You will also need access to a printer, as your certificate can be printed upon successful course completion, and there are resource documents you may wish to print before you begin your course.

Can I do my online training on an iPad or smartphone?
Yes, our courses are built in HTML5, with a responsive design that will size your course to your device.
How do I change the Pop-up Blocker settings on my browser?
When you click on a course lesson, it will open in a new window or tab. You may encounter some difficulty in opening the courses if your browser is set up to block pop-ups. Typically you can solve this problem by allowing (or "whitelisting") the current site in your ad blocker settings.
Internet Explorer: Pop-up Blockers are typically turned on and set to the medium setting, which means it will block most automatic pop-ups. The default settings for the pop-up blocker allows you to see pop-ups that are opened when you click a link or button on a website. Pop-up Blocker will also play a sound and show the Information Bar when a pop-up is blocked.
Open Internet Explorer.
On the Tools menu, point to Pop-up Blocker, and then click Pop-up Blocker Settings.
Turn off the Internet Explorer Pop-up Blocker to disable entirely, or else adjust these settings so that it works the way you want it to.
The webpage won't come up. It just says "Page not found."
Close all Internet browsers (Internet Explorer, Chrome, Safari, etc.) and then open it again. Try typing the website (including www.) in the address bar, instead of using the link from your email or from your favourites list. You may also need to delete your cache.


It's taking a long time to load the course.
Each chapter is loaded completely before you begin a lesson, and if you have a dial-up connection this will take longer than if you have a high-speed connection. You may have to delete your cache, and should close all other applications or programs that are open.


My screen is blank when I click on one of the chapters. The course won't play.
Your browser security could be blocking the course player. First do a cache clean, then watch for these security messages:
Internet Explorer 10: Is there a pop-up at the bottom of the screen that says "Only secure content is displayed"? You will need to click "Show all content." In older Internet Explorer versions the pop-up asks "Do you want to allow ONLY the content that was downloaded securely?". You must click "NO". If you click "Yes" you are asking the browser to block the content. If you have already chosen "Yes", clean your cache and choose "No" when you see the security message.
Mozilla Firefox: A shield symbol appears in the address bar (top left). You must left-click on the shield, and disable protection on the page.
Google Chrome: A shield symbol appears in the address bar (top right). You must left-click on the shield, and allow the unsafe script to load.
How do I delete my internet cache/history?
Google Chrome

Click the Chrome menu on the browser toolbar (three vertical dots at the top right of the browser window).
Select More Tools > Clear browsing data.
In the dialog that appears, select the checkboxes for the types of information that you want to remove (at minimum, choose "Empty the cache").
Use the menu at the top to select the amount of data that you want to delete. Select "Beginning of time" to delete everything.
Click "Clear browsing data."
Refresh your browser (F5 on Windows, CMD + R on Mac).

Mozilla Firefox

At the top of the Firefox window, click on the Firefox button and then select Options.
Select the Advanced panel.
Click on the Network tab.
In the Cached Web Content section, click Clear Now.
Click OK to close the options window.
Refresh your browser (F5 on Windows, CMD + R on Mac).

Safari 8 or 9
Click the Safari menu in the top right corner and click on Preferences.
In the window that appears, click the Privacy tab. Click the "Remove All Website Data" button.
Click Remove Now in the pop-up window that appears.

Safari 10, 11, 12
Click the Safari menu in the top right corner and click on Preferences.
In the window that appears, click Advanced and check the box that says "Show Develop menu in menu bar." Close the preferences window.
In the top menu bar, click Develop > Empty cache.

Internet Explorer 10 or 11

Click on the gear wheel icon in the top right corner and select Tools > Safety > Delete browsing history.
Choose the types of data or files you want to remove from your PC, and then select Delete.
This may take several seconds or several minutes, depending on the last time your computer's cache was cleaned.
Refresh your browser (F5 on Windows, CMD + R on Mac).

Older versions of Internet Explorer
Click on the Tools menu at the top left area of your screen and select Internet Options.
On the first tab (General), under the Browsing history section, click the Delete button.
In the Temporary Internet Files section, click the Delete button and then click "Yes" to the confirmation to delete. This may take several seconds or several minutes, depending on the last time your computer's cache was cleaned.
Refresh your browser (F5 on Windows, CMD + R on Mac).
Ordering
Do I pay the shipping?
Shipping and handling charges are added to each transaction. You may choose to have the items shipped collect by providing your courier account information, or choose to have the shipping and handling added to your purchase based on the method of delivery. Danatec does not ship collect without a valid courier account number.
What is Danatec's "Same-Day Shipping" policy?
Danatec will ship out your order on the day it is received as long as it is before 12:30 PM MST, Monday to Friday (with the exception of statutory holidays). Danatec cannot guarantee delivery times on shipments.
GHS: What You Need to Know
WHMIS (GHS)
On February 11, 2015, the Government of Canada published the Hazardous Products Regulations (HPR). The Workplace Hazardous Materials Information System (WHMIS), Canada's national hazard communication standard, is changing to incorporate the Globally Harmonized System of Classification and Labelling of Chemicals (GHS) – an internationally recognized standard for hazard classification and communication.

Starting December 1, 2018, all suppliers of hazardous products and employers were required to be in compliance with the new Hazardous Products Act and Hazardous Products Regulations.
Click here for more information.