{{ notice }}
{{ warning }}

Safety training is "just a requirement" — until it's not. Learn from Canadian workers whose lives were forever changed because of accidents WHMIS can prevent.
Get Certified Now!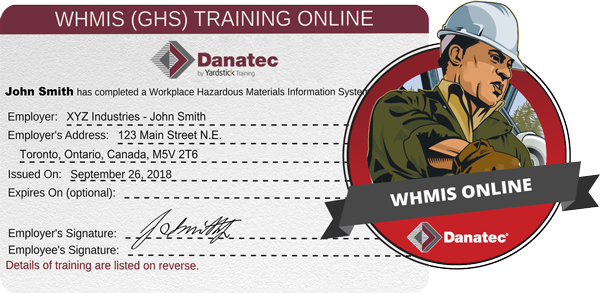 SAFETY TRAINING MORE PEOPLE RECOMMEND
TRUSTED BY INDUSTRY SAFETY EXPERTS FOR OVER 30 YEARS
"I was afraid the WHMIS training would be boring, but I couldn't stop watching the videos! I had to know what happened next in each scenario and as a result, I'm sure I learned much more. The stories made me take chemical safety awareness much more seriously."
Anna B
CHOOSE FROM 3 GREAT ONLINE TRAINING OPTIONS
WHMIS Online Training
Average Duration: 90 Minutes
Industry recognized, printable WHMIS certificate
Live support Monday to Friday, 7am to 5pm MST
Same day certification, begin your training in minutes
Start and stop at your convenience Available 24/7
Printable resources for easy reference and use
User management
Have a WHMIS questions? Speak to one of our safety experts, free of charge, call us toll free at 1-800-465-3366.
FULLY COMPLIANT WHMIS (GHS) CERTIFICATION — PLUS MORE
Experience award-winning, industry-recognized WHIMIS online training for first-time or re-certification.

Only with Danatec, WHMIS (GHS) trainees get more than just certification. They get safer.

Learn to manage everyday risks and avoid catastrophic outcomes through five real workplace stories.
Get Certified Now!
Includes documentary-quality videography based on true stories
Engaging animations and quizzes build confidence for the final exam
Learn to manage everyday risks and avoid catastrophic outcomes through five real workplace stories.
OUR WHMIS TRAINING IS ALSO AVAILABLE IN SELF TEACH®
Do you or your employees work without access to high-speed internet? Choose WHMIS Self-Teach® Training instead, and learn offline. Self-Teach® includes all the materials needed to certify or re-certify — at a learner's own pace and location. Get the WHMIS Self-Teach® program shipped fast and start training!

WHMIS Self Teach Training
Industry recognized, WHMIS Training and certificate
Easy to follow and read training manual for one person
Live support Mon-Friday, 7am to 6pm MST
Interesting and engaging learning content created by industry experts
Same day certification, begin your training in minutes
Stop and go at your convenience
Have a WHMIS questions? Speak to one of our safety experts, free of charge, call us toll free at 1-800-465-3366.
NOTHING BETWEEN YOU AND CERTIFICATION
Danatec WHMIS training comes with live support Monday - Friday, 7am to 5pm MST.

Whether you need tech support or to talk to a subject matter expert, we're here for you.
We're only satisfied if you're 100% satisfied.
Call us at 1.800.465.3366 or email us at customercare@danatec.com
MORE WHMIS TRAINING OPTIONS AND RESOURCES

WHMIS TRAINING LEARNERS PREFER
GET SAME DAY CERTIFIED
Complete the course and pass the exam in about 1.5 hours. Or stop and go at your convenience.
LEARN MORE EASILY
When you're engaged, you're focused. Enjoy an interactive learning experience that makes getting the right answers almost automatic.
INSTANT & SHAREABLE CERTIFICATION
Print your certificate immediately and post your digital badge to LinkedIn or wherever you could use a higher profile.
TRAIN ANYWHERE, ANYTIME
Get certified more conveniently. Danatec online training works just as well on mobile and tablet as it does on your laptop.
TRAINING MANAGEMENT MADE EASY
CHECK OFF DUE DILIGENCE WITH CONFIDENCE
Know you're giving employees a better learning experience to stay safe — and keep your workplace compliant.
SAVE WITH VOLUME DISCOUNTS
Get up to $8 OFF per employee when you purchase WHMIS training in volume. Discounts start at just 25 seats.
DISTRIBUTE AND MANAGE TRAINING — MORE EASILY
Give employees access to training with one click. Manage every step inside an easy-to-use learning portal.
CERTIFY, VERIFY AND PRINT CERTIFICATIONS INSTANTLY
It has never been easier to issue and print certifications—because as a training manager, you're in control.
FREQUENTLY ASKED QUESTIONS
What does WHMIS stand for?
WHMIS stands for Workplace Hazardous Materials Information System. This system has been in place in Canada since 1998 and has recently been updated as WHMIS 2015, including GHS.
Does this WHMIS training include GHS?
Danatec's online WHMIS Certification training is updated to include the latest 2015 requirements, including GHS. GHS stands for Globally Harmonized System of Classification and Labelling of Chemicals for workplace chemicals.
Who needs WHMIS training?
In Canada, all employees who are exposed or likely to be exposed to a hazardous material or controlled product at the workplace must be WHMIS-trained.
Is this the latest WHMIS training?
Yes. WHMIS was updated in 2015 to incorporate the GHS through amendments to the Hazardous Products Act (HPA) and the finalization of the Hazardous Products Regulations (HPR). WHMIS 2015 also incorporates amendments of occupational health and safety legislation and/or regulations in each federal, provincial and territorial jurisdiction.
Is this WHMIS training valid in my province/territory?
Yes. This certification program meets the requirements set in each province and territory.
Do I need to renew my WHMIS certificate? How long is my WHMIS certification good for?
Your Danatec WHMIS certificate includes a 3-year certification expiry date.
Can I print my certificate right away?
Yes, your certificate will be immediately available for print. And when you download the digital WHMIS-certified badge, you can share that online, too.
Can I take this training on my phone or tablet?
Yes, you can. As long as you're connected to the internet, you can train on any device.
Can I start training right away?
Yes! Just click the button to buy and go through our secure checkout process. You'll be able to start training right away.
How long does the training take to complete?
Expect to spend about 1.5 hours taking the training and exam. The time will fly by because this WHMIS training is engaging like no other.
Do I have to take the training all at once?
No. You can pause and take breaks or finish the course in one sitting. That said, it's so good, you might not be able to tear yourself away.
Does the course 'time out'?
There's no time limit to complete the course.
Do you offer WHMIS training in French?