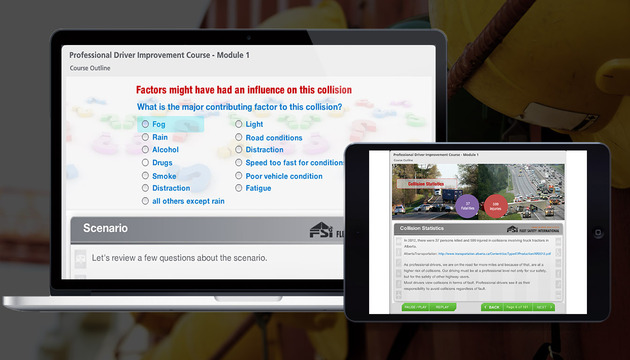 Note: Our course modules work best on the latest version of Google Chrome. If your course is not loading, update your browser and/or check your internet connectivity as a first step.
PDIC Condensed Online Training (Professional Driver Improvement Course)
This short 2-3 hour program is the condensed version of the Fleet Safety International Professional Driver Improvement Course (PDIC). This condensed program has been developed specifically for professional truck drivers.
COURSE DURATION: Approximately 2-3 hours
TEST: Testing conducted in this online Condensed Defensive Driving program is designed to reinforce the information presented. A mark of 80% must be achieved in order to receive a certificate of completion. Participants are able to repeat the course twice if the pass mark is not achieved.
CERTIFICATE OF COMPLETION: Upon successful completion of this online course, a certificate of completion will be available to download and print.
SAFER System of Defensive Driving (SPACE, Attitude, Foresight, Eyesight, and Responsibility)
Six Conditions That Can Contribute to a Crash
Backing Collisions
Jackknife Collisions
Wildlife Collisions
Drowsy Driving