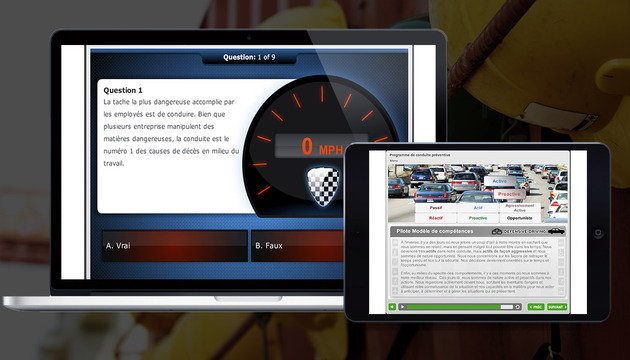 Note: Our course modules work best on the latest version of Google Chrome. If your course is not loading, update your browser and/or check your internet connectivity as a first step.
Defensive Driving Condensed Online Training (French)
Ce cours sur la conduite préventive est conçu pour les organismes de langue Francaise. Le cours explore les six composantes du système SAFER sur la conduite préventive. Attitude, Prévoyance, Visualisation et Resposabilité en sont les grandes lignes.
Model de compétence de conduite
Système SAFER de conduite préventive
Collisions les plus fréquentes

Suivre de trop près
Reculer
Intersections

Collisions avec la faune
Fatigue
Conduite avancée

Virement vers le fossé et récupération

Vision
Freinage d'urgence
Evitement de collision

Complaisance
CONDUITE PRÉVENTIVE DURÉE DE LA FORMATION EN LIGNE: Approximativement 3 heures
CONDUITE PRÉVENTIVE QUIZ: Le quiz à la fin de cette formation sur Conduite Préventive en ligne est conçu pour renforcer l'information présentée. Une note de 80% doit être atteinte afin de recevoir un certificat de formation. Les participants sont en mesure de reprendre le cours deux fois si la note de passage n'est pas atteinte. Matériel de cours supplémentaire nécessaire pour compléter ce cours peut être consulté en ligne.
CONDUITE PRÉVENTIVE CERTFICAT DE FORMATION EN LIGNE: Une fois que ce cours en ligne est réussi , un certificat de formation sera disponible pour télécharger et imprimer.
CONDUITE PRÉVENTIVE DRIVING APERCU DE LA FORMATION EN LIGNE
Bienvenue
Navigation du Cours
Introduction
Statistics Quiz
Définitions clés
Qu'est-ce qui est Acceptable?
Exercice « correspondance »
FSI de base Philosophie
Pilote Modèle de compétences
Le défi - Établir de bonnes habitudes de conduite
Système SAFER de la conduite défensive
l'ESPACE - Introduction
Attitude
Prévoyance …la capacité à anticiper
Vision - Introduction
Responsabilité
Les collisions les plus courantes
Collisions dues à une marche arrière
Collisions aux intersections
Collisions avec la faune
Fatigue du conducteur
Conduite avancée - Introduction
Mouvement et de freinage
Survirage - Mesures à prendre
Évitement de collision
Complaisance - Définition
Conclusion
End of course