{{ notice }}
{{ warning }}

It is our mission to make sure you and those you care about get home safely from work each day.
Everything we do is driven by our desire to build a safer world. You're receiving this because someone cares about you.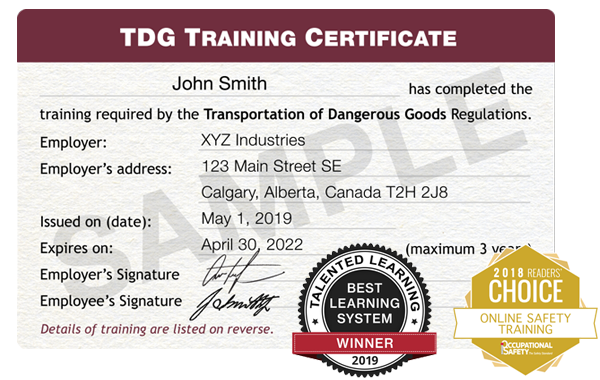 TDG Online Training
Average Duration: 3 Hours
Industry recognized, printable TDG certificate
Live support Monday to Friday, 7am to 5pm MST
Same day certification, begin your training in minutes
Start and stop at your convenience Available 24/7
Printable resources for easy reference and use
User management
Have a TDG questions?
Speak to one of our safety experts, free of charge, call us toll free at 1-800-465-3366.
SAFETY TRAINING MORE PEOPLE RECOMMEND
TRUSTED BY INDUSTRY SAFETY EXPERTS FOR OVER 30 YEARS
"Our Company utilizes Danatec for the TDG and WHMIS online training courses. The courses are interactive, industry recognized with printable/re-printable certificates (especially in the case where the employee loses their certificate). Easily accessible and very convenient."
Pimee W