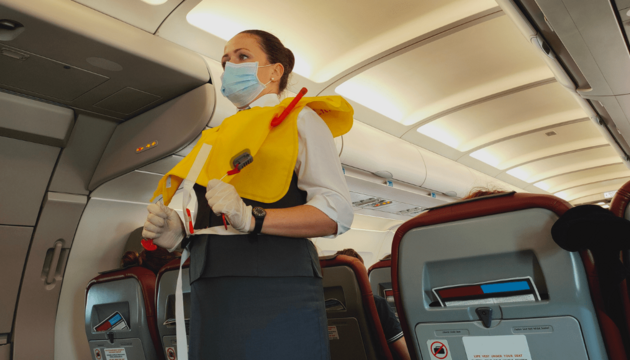 Note: Our course modules work best on the latest version of Google Chrome. If your course is not loading, update your browser and/or check your internet connectivity as a first step.
IATA Flying during a Pandemic-Cabin Crew Awareness
This eLearning course will provide current and future cabin crew members with an overall understanding of the temporary measures and procedures that are being adopted in the aviation industry while flying during the COVID-19 pandemic. You will learn about the new health and sanitary measures to keep yourself and others safe. Explore cabin crew duties and responsibilities during a public health emergency, such as handling a suspected case of communicable disease onboard and dealing with increased passenger stress.
Course format
This course requires approximately 2 hours of study to be completed in 6 months from the purchase date (enrollment validity). After the enrollment validity expires, the users will not have access to the course content and will not be able to take the assessment.
Student performance will be based on an assessment.
What you will learn?
Upon completion of this course you will be able to:
Recognize the challenges paused by COVID-19 or any similar pandemic in cabin operations
Adapt confidently to the changes brought to the cabin environment
Restore passenger's confidence in air travel by demonstrating best practices and reassuring them that the cabin environment is safe
Course content
Duties and responsibilities before, during and after a flight
Personal protective equipment
Passengers concerns during a pandemic
Inflight services and tasks impacted by the pandemic
How to safely disembark a flight
Considerations and rules to follow during layovers
Cabin Crew health and wellbeing
Who should attend?
This course is recommended for:
Cabin Crew
Aviation professionals
Civil aviation authorities
Certificate awarded
Upon successful completion of the assessment you will be awarded a Certificate, available for you to print for your records.
Exam information
Non-supervised online-based assessment. Assessment can be taken any time at your convenience.
You will be given 30 minutes to complete 10 multiple choice questions.
Passing grade is 60% correct answers.
You will be given 2 attempts to successfully complete the final assessment.