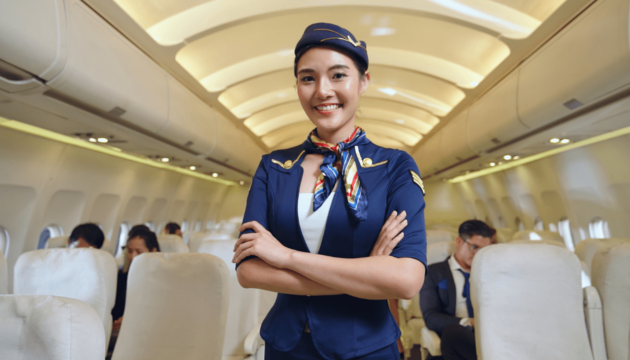 Note: Our course modules work best on the latest version of Google Chrome. If your course is not loading, update your browser and/or check your internet connectivity as a first step.
IATA Dangerous Goods Regulations (DGR) for Cabin Crew
For personnel listed in Appendix H 6.9 of the IATA DGR | Cabin Crew.
A safe and efficient air transport system is dependent on a competent workforce, meaning that you must be trained in the functions for which you are responsible – whether or not this is noted in your job title. IATA recognizes that this is best achieved through a Competency Based Training and Assessment approach (CBTA), and therefore this course has been designed following the new Dangerous Goods Training Guidelines on CBTA principles in the IATA DGR appendix H.
This interactive course will guide you in the tasks and responsibilities to ensure that you are competent to perform your job function in compliance with the provisions of the IATA Dangerous Goods Regulations (DGR) - appendix H 6.9 (Cabin Crew), fulfil your dangerous goods training requirements and be in full compliance with the regulations.
Course format
This course requires approximately 4 hours of study to be completed in 6 months from the purchase date (enrolment validity). After the enrolment validity expires, the users will not have access to the course content and will not be able to take the exam. Student performance will be based on an examination.
What you will learn?
Upon completion of this course you will be able to:
Identify and classify dangerous goods
Interpret hazard communication
Detect hidden dangerous goods in cargo and mail
Accept passenger baggage and verify the
requirements are met
Apply Emergency Procedures
Course Content
Understanding the basics of dangerous goods
Recognizing dangerous goods
Indicators within documentation of undeclared dangerous goods
Apply operator's requirements on baggage
Report dangerous goods accidents
Who should attend?
Airlines cabin crew members Airlines cabin crew supervisors
Certificate awarded
Upon successful completion of the exam/assessment, you will be awarded a Certificate that you can print for your records. This certificate is valid for 24 months.
Exam information
Non-supervised online-based exam. Exam can be taken any time at your convenience.
You will be given 75 minutes to complete 30 multiple choice questions.
Passing grade is 80% correct answers.
You will be given 2 attempts to successfully complete the final exam.
Please note that access to the current IATA DGR is required to complete the exam.