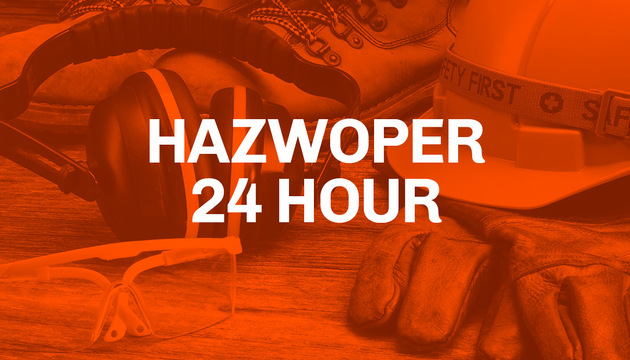 HAZWOPER 24 HR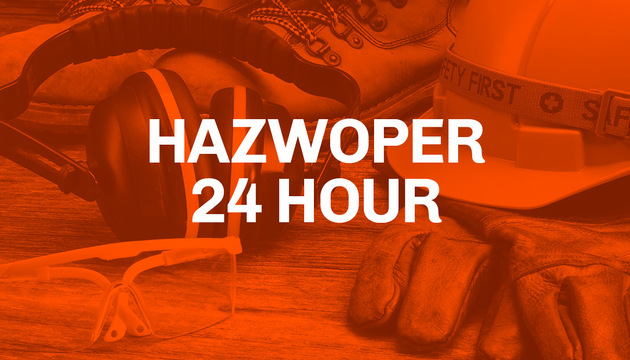 Description
The HAZWOPER 24 hour training program teaches students how to protect workers when in hazardous situations. The program is designed to comply with the extensive federal regulations (29 CFR 1910.120) to ensure the safety and the health of workers. This course also includes the new GHS Hazard Communication standards for labeling, SDS, pictograms, and new requirements.
Course Objectives
At the completion of this course, you will be able to:
Recognize and recall OSHA regulations and requirements.
Demonstrate an understanding of Site Characterization.
Identify the principles of toxicology and how they relate to various types of chemical exposures.
Describe potentially hazardous situations involving corrosives, solvents, oxidizers, and reactive chemicals.
Identify the uses for Personal Protective Equipment (PPE) and how to choose the correct PPE.
Recognize the principles of decontamination methods as well as levels of decontamination.
Define a Medical Surveillance Program and its purpose.
Recall characteristics of the confined space permit system, such as main confined space atmospheric hazards and types of ventilation.
Describe the medical concerns associated with confined spaces.
Indicate the various considerations in an emergency situation and the importance of training and action for personal safety and the safety of others.
Who Should Take This Self-Paced Course?
The eLearning pioneer's HAZWOPER 24-hour training is a regulatory-compliant program for the following:
Workers with limited and occasional exposure to hazardous wastes
Workers who are regularly on site but emergency possibilities are unlikely
Workers who are involved in operations that are specified under 1910.120(a) (1) (i-v) and 1926.65(a) (1) (i-v)
It is often taken to meet regulatory and employment requirements. There are no prerequisites for this online course.
Why You Should Take The HAZWOPER Course?
There's no room for carelessness when hazardous materials are involved. That's why the Occupational Health and Safety Administration (OSHA) developed regulatory standards like the Hazardous Waste Operations and Emergency Response (HAZWOPER) to promote safety at work. 360training.com an OSHA-authorized provider of online 10 and 30-hour safety training has designed a 24-hour HAZWOPER course to boost your compliance initiatives! About 360training.com's HAZWOPER 24-Hour Certification
360training.com's course offering satisfies OSHA's initial 24-hour HAZWOPER training requirements for workers who must enter a hazardous or potentially hazardous site. General site workers are also required to have one day of field experience which falls under the responsibility of the employer or prospective employee before engaging in hazardous operations.
This certification program from 360training.com covers 29 CFR 1910.120 and 1926.65. It includes 14 interactive sections related to HAZWOPER and the updated Globally Harmonized System (GHS) for Hazard Communication. The online training is also packed with customized activities, videos, and other multimedia features to enhance learning and recall.
End of Course Instructions After successful completion of the course the certificate of completion will be available for download and print from the training homepage
Quiz Information Each quiz must be passed with a minimum of 70% to proceed to the next lesson.
Exams The final exam must be passed successfully with 70% or higher in order to receive your certificate of completion
Additional Information What is HAZWOPER 24 Training?
HAZWOPER 24 is a 24-hour training for Hazardous Waste Operations and Emergency Response that is mainly intended for worker, supervisors, and employers who are on worksite occasionally for specific limited operations such as ground water monitoring, geological and land surveying. The learning objectives of this course include recognition, identification, evaluation, and prevention of hazards by following safety measures like training, OSHA regulations, material handling, and ergonomics.
What Lies Ahead...
To complete the course, students must pass the after-module quizzes and the final exam with a minimum score of 70%. The tests can be taken thrice to achieve a passing grade. Upon completing the program, students will receive a completion certificate that is accepted by OSHA as a training documentation. Students are encouraged to seek assistance from local regulatory authorities for complete training guidelines.
For more details about the, contact Protraining.com via phone, chat or email.
Course Outline
Written Safety and Health Program
Site Characterization and Analysis Training Program
Medical Surveillance
Personal Protective Equipment (PPE)
Sanitation at Temporary Workplaces
Monitoring Handling Drums and Containers
Decontamination
Emergency Response Plan