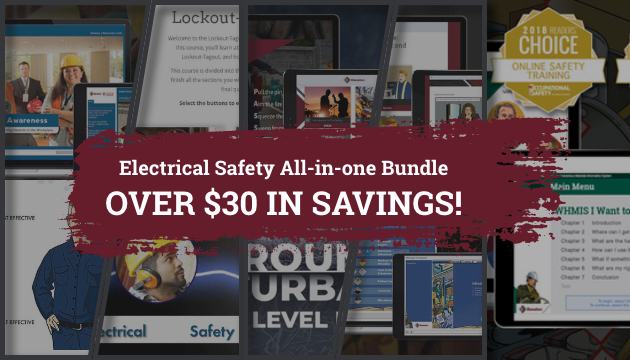 Canadian Electrical Safety All In One Bundle
Description
Shockingly Large Savings with the All in One Bundle
Save over $100 by bundling your courses
Our Electrical Safety Training courses are developed for workers who performed energized electrical work. Our courses are fully certified by NFPA 70E-18 and CSA Standards to ensure your employees and company are compliant.
The overall course content is developed using industry accepted best practices, adult learning principles, and engaging scenarios to provide real world examples, and learning environments.
Learning Objectives for Qualified Electrical Workers
Explain the Regulations and Standards applicable to their role and responsibilities.
Identify and understand electrical hazards and risk assessment.
Effectively manage electrical hazards by following the Work Flow Process to safely execute energized electrical work.
Learn how to complete an Arc Flash Risk Assessment and Shock Risk Assessment as part of an overall Risk Assessment Procedure (RAP).
Apply preventive and protective control measures to reduce risk by understanding and applying the Hierarchy of Risk Control Methods.
Gain a comprehensive understanding of Electrical Specific PPE, Tools & Equipment.
Understand electrical incident emergency response and incident reporting requirements.
Course Features
Course Available 24/7
Customer Support 7 - 5 MST Monday to Friday
Compatible with Tablet, Phone, Computer
Re-visit the training
This bundle includes the following products